Lake Tahoe, a captivating gem nestled in the Sierra Nevada mountains, is a winter wonderland that transforms into a skier's paradise during the colder months. Offering some of the best ski resorts worldwide, Tahoe boasts a diverse range of terrain suitable for beginners, intermediates, and adrenaline-seeking experts.
Let's uncover the 10 best ski resorts in Lake Tahoe, each offering a unique blend of natural beauty, exhilarating slopes, and cozy accommodations.
1. Heavenly Mountain Resort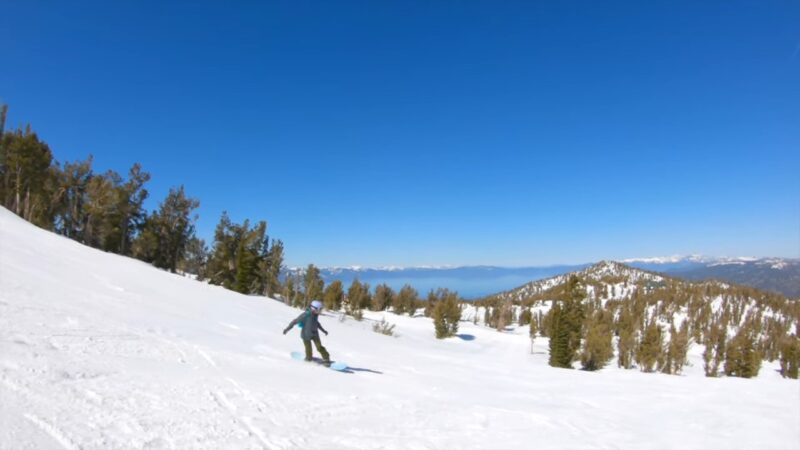 With the highest vertical drop in the Tahoe area, Heavenly Mountain Resort stands tall as an absolute must-visit for ski lovers. Spanning both Nevada and California, the resort boasts 4,800 skiable acres, making it the largest ski resort in Lake Tahoe. It offers an eclectic mix of beginner, intermediate, and expert terrains, catering to all skill levels. Advanced skiers will appreciate the resort's challenging double-black-diamond runs, while beginners can comfortably learn and grow on the generously wide and gentle slopes.
The resort offers more than just great skiing. Heavenly offers stunning views of Lake Tahoe, which are best enjoyed by the Heavenly Gondola. As you ascend 2.4 miles up the mountain, you can take in the awe-inspiring panorama of the sparkling blue lake surrounded by snow-capped peaks. No visit to Heavenly is complete without this scenic ride.
After an action-packed day on the slopes, visitors can indulge in Heavenly Village's bustling après-ski scene. The village is packed with a wide variety of dining options, from cozy cafes to fine-dining establishments. In addition, the village offers a myriad of shopping and entertainment venues, including a cinema, an ice-skating rink, and live music performances.
2. Squaw Valley Alpine Meadows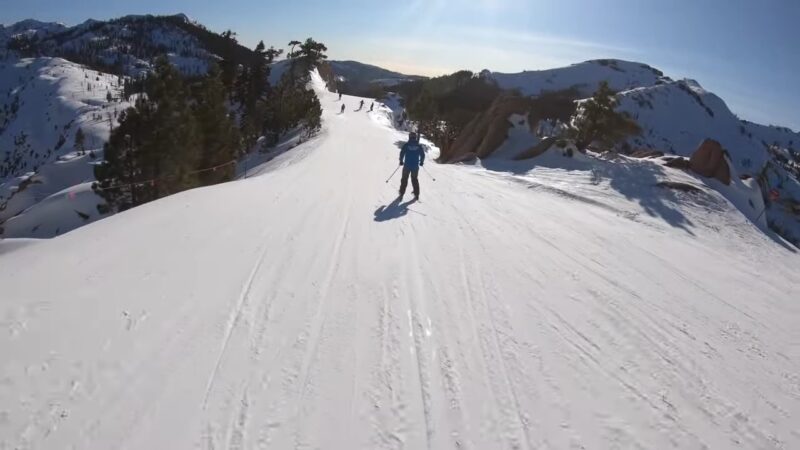 Squaw Valley Alpine Meadows holds a special place in ski history, having hosted the 1960 Winter Olympics. Ever since then, it has been providing ski enthusiasts with world-class experiences. The combined resorts offer an impressive 6,000 skiable acres, featuring a good balance of beginner, intermediate, and expert runs. What's more, the two mountains are interconnected by a shuttle, making it convenient for skiers to explore both areas on a single lift ticket.
Squaw Valley is renowned for its advanced terrains and long, steep runs, such as KT-22, which is often referred to as the 'best chairlift in North America.' Conversely, Alpine Meadows is known for its relaxed atmosphere and uncrowded slopes, making it a favorite among families and less-experienced skiers.
Imbued with a rich Olympic heritage, Squaw Valley is home to a unique Olympic Village. Here, you can walk in the footsteps of champions, visit the Olympic Museum, and even stay in the Olympic House. Squaw Valley also hosts several ski events and competitions throughout the season, which adds to its vibrant atmosphere.
3. Northstar California Resort
Northstar California Resort is an exceptional destination for families, known for its excellent amenities and attention to detail. It offers a good balance of terrains for beginners, intermediates, and experts. But where Northstar truly stands out is its top-notch ski school. Offering a variety of lessons and programs for all ages and skill levels, it's an ideal place for beginners and intermediates to develop their skiing skills.
The resort is well-organized, with an easy-to-navigate layout and a user-friendly lift system, which helps visitors make the most of their time on the slopes. Northstar's terrain parks are also top-tier, attracting freestyle skiers and snowboarders from all over.
Off the slopes, Northstar's Village is a hub of activity, featuring a range of high-end shopping, dining, and lodging options. The village also houses a 9,000-square-foot ice rink, which is open for complimentary skating for all visitors. In the evening, fire pits around the rink provide a warm and inviting ambiance, where visitors can roast s'mores and share their day's ski stories.
Lake Tahoe boasts an impressive array of luxurious accommodations, providing skiers and travelers with unparalleled comfort and breathtaking views amidst its snowy wonderland.
4. Kirkwood Mountain Resort
Kirkwood Mountain Resort is a hidden gem located about 35 miles south of Lake Tahoe. Famous for its high annual snowfall, Kirkwood offers some of the most challenging terrains in the area, making it a haven for advanced and expert skiers. The resort's 2,300 skiable acres feature a variety of steep chutes, cornices, and cliff drops.
Kirkwood's remote location makes it less crowded than other Tahoe resorts, providing visitors with a more serene skiing experience. The resort's commitment to sustainability and preserving its natural environment also adds to its unique appeal.
Kirkwood is not just for the adrenaline junkies, though. It also offers beginner and intermediate runs, along with a range of lessons and programs for those new to the sport or looking to hone their skills. Despite its rugged reputation, Kirkwood ensures there's something for everyone.
5. Sierra-at-Tahoe Resort
Sierra-at-Tahoe Resort is a down-to-earth resort that embraces the simplicity of skiing. Offering 2,000 acres of skiable terrain, the resort provides a range of runs for all skill levels. However, the real jewel in Sierra-at-Tahoe's crown is Huckleberry Canyon. This inbounds backcountry terrain offers five gates into a world of chutes, cliffs, and glades, providing a thrilling off-piste experience.
Despite its adventure offerings, Sierra-at-Tahoe prides itself on its family-friendly atmosphere. The resort offers several kid-oriented programs, including a licensed daycare for the little ones. The resort's commitment to families extends to its pricing, offering one of the most affordable ski experiences in Lake Tahoe.
Sierra-at-Tahoe also stays true to its roots, embodying a laid-back atmosphere that shies away from commercialization. Here, it's all about skiing and the people, making it a beloved destination for those seeking an authentic ski experience.
When visiting the stunning ski resorts of Lake Tahoe in 2023, make sure to indulge in the delectable culinary experiences offered by the top-notch restaurants in South Lake Tahoe.
6. Mt. Rose Ski Tahoe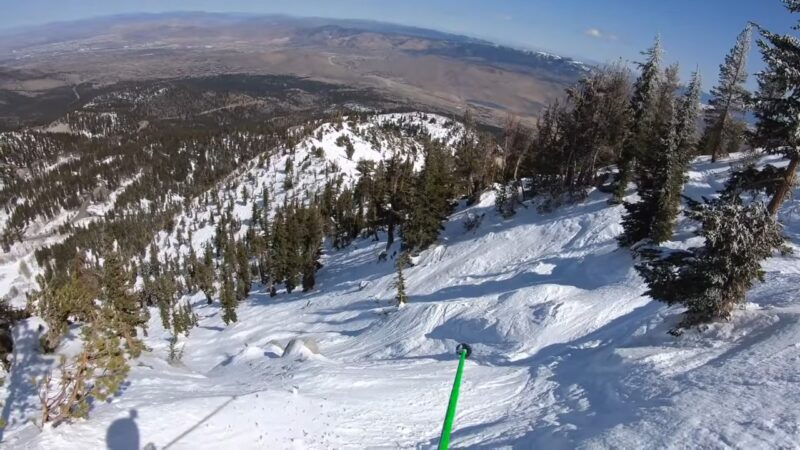 Positioned at an elevation of 8,260 feet, Mt. Rose Ski Tahoe boasts the highest base elevation in Lake Tahoe. This ensures not only impressive snowfall but also one of the longest ski seasons in the region. The resort is just a 25-minute drive from Reno, making it a convenient choice for city dwellers.
Mt. Rose offers diverse terrains, including the Chutes – a 200-acre area featuring some of the steepest inbounds terrains in North America. The Chutes provide a thrilling challenge for expert skiers, with slopes ranging from 40 to 55 degrees. The resort also caters to beginners and intermediates, offering a good variety of easier runs and high-quality ski instruction.
The resort's on-mountain dining is noteworthy, with a range of options from quick bites to full-service dining. The views from the Winters Creek Lodge, which overlooks the Washoe Valley, are particularly stunning. All in all, Mt. Rose offers a comprehensive ski experience that combines convenience, diversity, and quality.
7. Homewood Mountain Resort
Homewood Mountain Resort might be smaller than some of its Tahoe counterparts, but it's just as compelling. It offers skiers a unique combination of uncrowded slopes, moderate-difficulty terrain, and a spectacular lakeside location. The resort's 1,260 skiable acres cater predominantly to beginner and intermediate skiers, making it an excellent choice for families or those seeking a more relaxed skiing experience.
The charm of Homewood lies in its breathtaking views. With Lake Tahoe as its backdrop, the resort offers panoramic lake views from every run. Skiing down the slopes, you're treated to an unimpeded view of the lake's deep blue waters framed by towering pines, a sight that's truly awe-inspiring in its beauty.
Homewood's laid-back atmosphere is another of its strengths. This resort offers an intimate, family-friendly environment away from the larger crowds found at some of the bigger resorts. The base lodge is homey and welcoming, and the staff is known for their friendly service. Here, you're not just a visitor but a part of the Homewood family.
8. Diamond Peak Ski Resort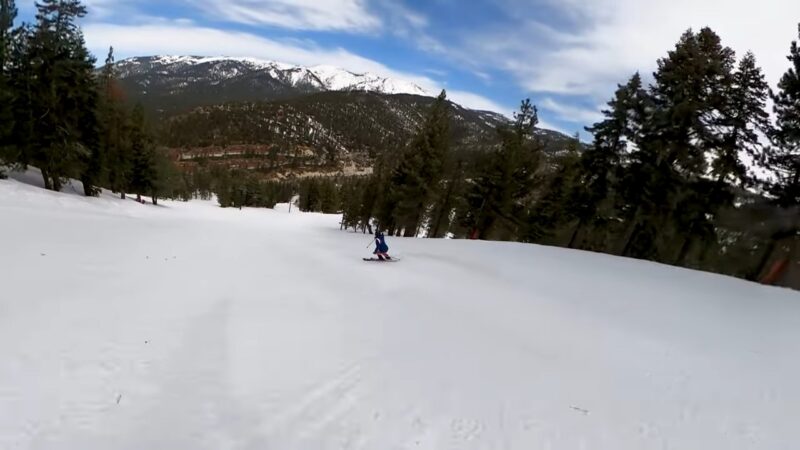 Diamond Peak Ski Resort is a family-friendly resort known for its affordable pricing, welcoming environment, and stunning lake views. The resort's 655 acres of skiable terrain is predominantly designed for beginner and intermediate skiers, with long, winding groomers that allow skiers to take in the scenery at a leisurely pace.
Despite its smaller size, Diamond Peak never feels crowded, allowing for a more peaceful and enjoyable skiing experience. The ski school is known for its low student-to-teacher ratio, which means beginners get more personalized attention.
Off the slopes, Diamond Peak's Snowflake Lodge deserves a special mention. Sitting at mid-mountain, the lodge offers a panoramic view of Lake Tahoe that's hard to beat. Whether you're there for lunch or just a quick break, the lodge provides a wonderful spot to relax and soak in the beauty of Tahoe.
In addition to the breathtaking ski resorts, Lake Tahoe offers a plethora of exciting activities and attractions that promise to make your visit in 2023 an unforgettable experience.
9. Sugar Bowl Resort
Sugar Bowl Resort is steeped in history. As one of California's oldest ski resorts, it has been delivering great ski experiences since 1939. Sugar Bowl offers 1,650 skiable acres spread over four mountain peaks. It provides a variety of terrain options for skiers of all skill levels, including advanced runs and exciting off-piste opportunities.
The resort's location on the crest of the Sierra Nevada results in a significant amount of snowfall, often more than any other Tahoe resort. This ensures excellent ski conditions throughout the season. Additionally, the resort's lift system is modern and efficient, minimizing wait times and maximizing ski time.
Sugar Bowl has managed to retain its old-world charm. Its base village is modeled after a European alpine village, and the resort still operates a traditional gondola that transports guests from the parking lot to the village. These historical touches, combined with modern amenities, create a unique blend of old and new that sets Sugar Bowl apart.
10. Boreal Mountain Resort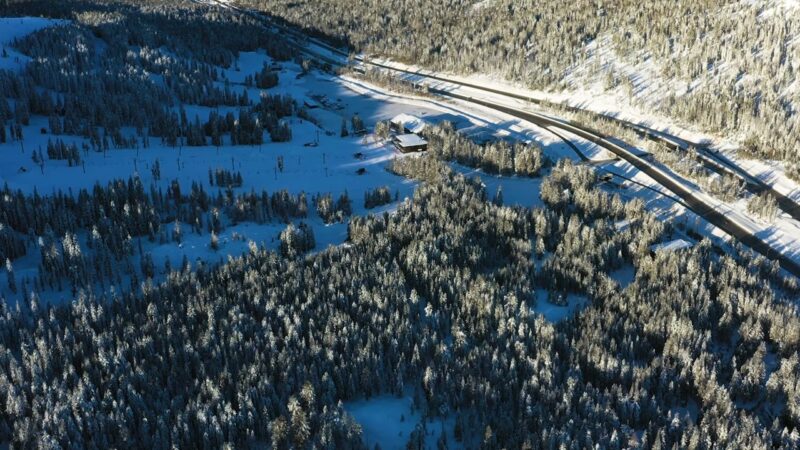 Boreal Mountain Resort is widely known as a hotspot for snowboarders, but skiers shouldn't feel left out. The resort offers enjoyable runs for skiers of all levels, and with night skiing available until 9 PM, the fun doesn't stop when the sun sets.
The resort is home to some of the best terrain parks in Tahoe, featuring jumps, rails, and boxes suitable for both novices and experts. Boreal also hosts a variety of freestyle events throughout the season, attracting top riders from around the world.
While Boreal may not have the extensive terrain or upscale amenities of some larger resorts, it offers an affordable and accessible skiing experience. It's also one of the earliest resorts to open each season, thanks to its comprehensive snowmaking system. For those seeking a laid-back, freestyle-focused ski experience, Boreal Mountain Resort fits the bill perfectly.
If you want to know the best time to visit Lake Tahoe, click here.
Final Words
From the high-altitude thrill of Mt. Rose Ski Tahoe to the intimate lakeside charm of Homewood Mountain Resort, Lake Tahoe's ski resorts offer an unbeatable blend of fun, adventure, and natural beauty. Each resort is a unique snow globe, offering a unique alpine experience that will leave every winter sports enthusiast craving for more.
Whether you're a seasoned skier looking for your next challenge or a family wanting to create snow-capped memories, Lake Tahoe's ski resorts promise an unforgettable alpine getaway. So, pack your winter gear and set your course for Lake Tahoe – your ski adventure awaits!