There's something wonderfully intoxicating about Lake Tahoe, a destination where serenity collides with adventure to craft an irresistible allure. Nestled between California and Nevada, Tahoe is a year-round paradise, but it's during the summer months that its splendid hiking trails truly sparkle. They meander through aromatic forests, climb rugged peaks, and skirt the cobalt-blue water, offering a plethora of scenic surprises.
Lake Tahoe boasts an impressive collection of trails catering to all levels of expertise. Its diverse topography ensures that each trail offers a unique experience, whether it's breathtaking panoramas, secluded beaches, alpine lakes, or diverse flora and fauna. No matter if you're an experienced trekker or a novice adventurer, Lake Tahoe's trails will infuse your spirit with unforgettable memories.
To help you navigate the hiking heaven that Lake Tahoe undoubtedly is, we've compiled a guide to the best trails, showcasing the region's natural diversity. We'll explore iconic wilderness areas, majestic peaks, and picturesque bays. We'll delve into family-friendly options and discover hidden gems. We'll also provide vital tips for planning your hiking adventure, safety precautions, and the importance of ethical hiking.
1. The Iconic Desolation Wilderness
The Desolation Wilderness is, without a doubt, a jewel in Lake Tahoe's crown. Spanning over 63,000 acres, it presents a rugged landscape of glaciated granite, crystal-clear lakes, and sub-alpine and alpine forests. Amid this vast wilderness, you'll find over 100 miles of trails, each revealing an untouched slice of this strikingly beautiful area.
Take the trail to Lake Aloha, a hike that encapsulates the raw beauty of Desolation Wilderness. This approximately 12-mile round-trip journey starts at Echo Lake. The trail weaves through forests, follows granite ridgelines, and finally reveals Lake Aloha's spectacular expanse. Reflecting the sky, the lake's many small islands provide the perfect backdrop for a mid-hike picnic.
Another captivating trail is the trek to Pyramid Peak, the highest point in the Desolation Wilderness. The views from the top are nothing short of awe-inspiring, offering a panoramic vista of the wilderness and the sparkling Lake Tahoe in the distance. Bear in mind that this trail is challenging and best suited for experienced hikers, but the payoff is worth every drop of sweat.
2. Majestic Views from Mount Tallac
Mount Tallac offers some of the most awe-inspiring views in the Lake Tahoe region. The strenuous 9.5-mile round-trip hike might test your endurance, but the breathtaking vistas of Lake Tahoe and the surrounding peaks from the summit make it worth the effort. The trail takes you through lush forest, past mountain streams, and over rocky terrain.
At the summit, standing over 9,700 feet high, you'll feel on top of the world. The clear waters of Lake Tahoe stretch out below, framed by snow-capped peaks and verdant forests. It's a moment that encapsulates the wild, unspoiled beauty of Tahoe, a moment that lingers long after the hike is over.
Best tackled from late June through October, the Mount Tallac trail is a must-do for every outdoor enthusiast. Even though it's a popular hike, the vastness of the landscape ensures that you still experience a sense of solitude and peace.
3. Discovering Emerald Bay
Emerald Bay, with its sapphire waters framed by towering cliffs, is arguably the most beautiful spot in Lake Tahoe. A network of trails crisscrosses the area, each offering unique views and experiences.
The Bayview Trail, approximately 4.5 miles round trip, offers unrivaled views of Emerald Bay, Granite Lake, and beyond. The hike is moderately strenuous but pays off with stunning vistas.
Another popular trail is the Rubicon, a relatively flat 5-mile path tracing the water's edge and offering fantastic lake views. It's perfect for families and those who prefer a less strenuous hiking experience.
Lastly, a visit to Emerald Bay isn't complete without exploring the historical Vikingsholm Trail. This 2-mile round trip trail descends to a Nordic-style castle, a surprise cultural treat amid natural beauty.
4. Enchanting Waterfall Trails
Waterfalls add a dramatic touch to Lake Tahoe's scenery, and there are plenty of trails that will lead you to these mesmerizing natural features.
The hike to Horsetail Falls, a 3-mile journey into Desolation Wilderness, is a fantastic choice. This trail is moderately challenging, but the sight of the cascading 800-foot waterfall is worth every step.
For an easier trek, head to Eagle Falls, a short but beautiful hike that takes you to a roaring waterfall and delivers stunning views of Emerald Bay.
A less-visited but equally fascinating trail leads to Glen Alpine Falls. This trail not only rewards with views of the impressive waterfall but also boasts beautiful wildflowers and intriguing historical sites.
5. Lakeside Trails
For those who want to enjoy Tahoe's waters up close, lakeside trails offer the perfect opportunity. The Lam Watah Trail is an easy 2.2-mile round trip route leading to Nevada Beach, a tranquil lakeside spot ideal for picnicking, swimming, or simply soaking up the sun.
The Logan Shoals Vista trail, another easy option, is a short walk leading to a viewpoint with sweeping views of the lake. It's the perfect spot to watch a Tahoe sunset.
For a longer lakeside trek, consider the Tahoe Rim Trail. While the full trail loops around the entire lake, it can be broken into smaller sections, each offering scenic lake views, diverse terrain, and a sense of solitude amid nature.
6. Family-Friendly Hikes: Outdoor Adventures for All Ages
For families with young children, there's an array of trails in Lake Tahoe that cater to little legs. The Taylor Creek Visitor Center, for instance, offers a flat, easy, and interactive trail. Here, kids can explore a stream profile chamber that gives them a unique underwater perspective.
Spooner Lake, with a 2-mile path, is another excellent choice. It's easy, flat, and surrounds a picturesque lake, offering opportunities for birdwatching and picnicking.
For slightly older kids, Cascade Falls is a great option. This 2-mile round trip trail presents a moderate challenge with minimal elevation gain and rewards with views of a beautiful waterfall and Cascade Lake.
7. Hidden Gems: Off-the-Beaten-Path Hikes in Lake Tahoe
Away from the well-trodden paths, you can discover Tahoe's lesser-known but equally captivating trails. The trek to Secret Cove, for example, offers a peaceful escape. This moderately difficult 1.2-mile trail takes you to a secluded beach that's perfect for a quiet, refreshing swim.
The trail to Marlette Lake is another hidden treasure. This 10-mile round-trip hike is tucked away in the Carson Range, and despite being a challenging trek, the secluded lake and stunning scenery make it a worthwhile endeavor.
Skylandia Park and Beach Trail is a less crowded but picturesque route. This easy 2.5-mile hike leads to a peaceful beach and offers splendid views of the lake, making it a serene retreat.
Planning Your Hiking Adventure: Tips and Essential Information
Before embarking on your hiking adventure, it's important to plan ahead. Check the weather conditions and trail reports, as these can greatly influence your hiking experience. Dress in layers, as Tahoe's weather can change rapidly, and don't forget your sunscreen.
In terms of timing, the best period for hiking in Tahoe is from July through September, although many lower elevation trails can be enjoyed from late spring. Higher trails, however, may be snow-covered well into the summer.
Remember to pack plenty of water and trail snacks, as hiking at altitude can be dehydrating. Also, take a map and compass – while most trails are well-marked, it's best to be prepared.
Safety Precautions and Leave No Trace Ethics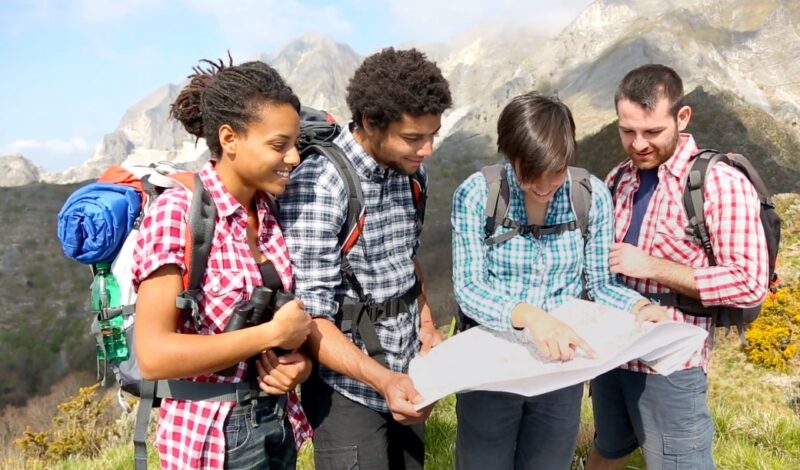 Safety should always be paramount. Respect the terrain, stay on designated trails, and keep a safe distance from wildlife. Also, let someone know your plans before you set off.
Leave No Trace principles are essential in preserving the beauty of Lake Tahoe. Dispose of your waste properly, minimize campfire impacts, and leave what you find. These ethics ensure that the trails are maintained for future visitors and for the wildlife that calls the area home.
Hiking in Lake Tahoe's Pristine Beauty
Trekking through Lake Tahoe is more than a mere hiking experience. It's an immersive journey into a pristine world where each trail tells a unique tale. As you weave through fragrant forests, climb sky-touching peaks, or trace the vast, shimmering lake, you'll gain a deep appreciation for Tahoe's captivating landscapes.
Final Words
Whether you're seeking solitude in the wilderness, a family adventure, or a challenging peak to conquer, Lake Tahoe's trails are a hiker's dream. Each trail unveils a different facet of Tahoe's beauty, ensuring a myriad of unforgettable experiences. As you embark on these trails, remember to tread lightly, respect the environment, and relish every moment of your Tahoe adventure.